Celia Pym is an inspiring artist who saves knitting and gives it a new life in the process. Below she talks us through her obsession with the art and meaning of darning knitwear. PE
London based, Celia Pym has fascinating methods and works of art, a textile artist  focusing on darning, knitting and embroidery. Most interestingly she has darned other people's clothing to psychologically provoke emotions towards care and repair, where she returns the mended garments to their owners, eventually. With a career of darning under her belt and clear remarkable talent, she teaches classes  and workshops on how to mend and repair in the same manner that she does. Her work mixes threads, colours and textures that form a visual kaleidoscope of knitwear that cannot be compared. Take a peek inside her mind as she talks us through her process.
I am sure I learnt to knit as a child, though I can't precisely remember who taught me how or anything in particular that I made. My memory is that as 8 or 9 year old, I watched people knitting and maybe would have a go on their work. My Mum, Hope, knit, her friend Mary knit, my aunt Carol and great-aunt Elizabeth knit. Needles, patterns and wool were definitely knocking around in my childhood and being able to make something with sticks and a line of yarn, felt exciting to me.
I picked up knitting in my work in my early 20's, in the final year of my BA. I was studying sculpture and struggling to settle down in my studio and decided one day to start knitting as a sort of warm up activity. To get me to sit down and stay put in the studio. This knitting warm up activity sort took over, the piece I was working on grew into a very long red line (I decided at some point to only knit with red, I felt that would simplify colour decisions.) What I liked about it was that I hadn't really noticed while I was making it how long it was getting, it grew slowly over a period of 3 months and sort of crept up on me. I liked how it marked and measured that period of time.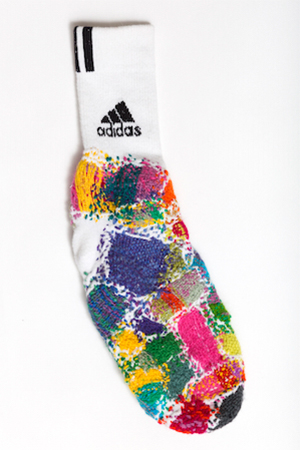 Excited about some of the ideas around this red piece – that knitting has the potential to be a portable art form, stick your needles in your bag and you can carry your work with you, that it grows sequentially, row on top of row and the that it has this possibility of being a measuring stick of time. I received a fellowship to measure a journey around Japan in knitting. The rules and shape of this project were that I would knit every day, I would only knit blue yarn, each row would be 50 stitches (though weight of the yarn could change) and the pace of the journey would be determined by the speed at which I knit. At the end of 9 months, I had made a 80foot long piece of blue knitting and visited each of the main islands of Japan. I was carrying the piece rolled up in a backpack with a variety of different sized needles.
My interest in the body, the space it occupies, way it moves and works and how it feels has been there since before the Blue Knitting around Japan. When I started to get into repair and darning it made sense to work with garments , as a sort of extension of the body.
My Dad knew I was interested in things, textiles in 
particular, that were a bit lumpy, off, not quite right. So when my Great-Uncle died my Dad gave me his sweater.  The sweater was all worn out in the fore arms, a little bit in the armpits and a little bit a at the neck and waistline. Lots of the damage had been repaired over time by his sister my great-aunt Elizabeth. Two things moved me about this sweater. One that I could physically see his body in the damage of the sweater. He was a painter and at the end of his life – he sat in a chair to draw – leaning, heavily, on the board in front of him and on his forearms. The damage literally carried a trace of the actions of his body. And he was like an echo in his sweater.
The second thing that moved me about the sweater – was the feeling of my aunt mending it. Small acts of care and attention. It felt very tender to me. Her mending is not neat – it is very practical. Something I liked too. The darning was fit for purpose.
For a long time I worked with one colour at a time. Only using blue for a work or red. Or combining a colour, in many shades with white or black.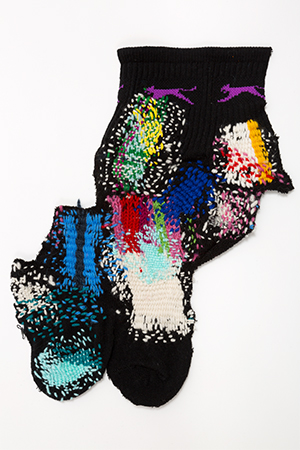 As I got more involved with darning I started acquiring more balls of wool in different colours – because all these jumpers and socks that I was looking at their holes, they came in different colours that I could not control and I needed a large palette of colour to draw from to match for their darns.
When I shop for yarn – I often just buy one ball in one colour at a time, without knowing when or how I will use it but just to add it to my collection. I have boxes of acrylic yarn and wool organized into groups. The groups are now organized loosely by colour, all the yellows together, pinks, blues, greens and so on.
Often I don't plot the colour use if I am practicing my darning for instance on sports socks work – the colours are built up in layers and I will spread out all the wool in front of me chose the next colour to use as I go along. It's always one colour at a time. There's a lot of play and pleasure involved in the colour choices.
I'm inspired by Cy Twombly's use of colour, colour in Annie Mae Pettway's quilts,  Phyllida Barlow and Rachel Whiteread's work and fair isle knitting colour work.
I love a heavy darn , though if the owner wants it done lightly, I am happy to do that too. It feels a stronger move to me to darn in contrasting colour and be able to see the damage. If you can see the repair you can see evidence of use. Making the missing parts clear. My friend recently told me there is something called unseen damage. This is the idea that wide of the hole the cloth might be weak so that you want to stitch wide of the hole into the cloth to reinforce around the hole.
I love working with holes because they are a problem to solve. I don't design the patterning of repair, I just follow the damage, filling the holes in with darning and spreading stitches into the thinner weaker areas around the holes.
I also like making holes in undamaged garments like sports socks or tracksuits – to test out how 
heavy I can make a darn, for instance of the socks. Or taking what I know about where holes happen on garments and the body, from making repairs, mapping them on garments, like the tracksuit. To start to see patterns of wear and tear.  Making holes in items that are unused, can be a lovely contrast to mending holes. And they are instructive, I can hone my mending on the socks and tracksuit. What fascinates me about the life of a piece of knitwear is how repair and damage go together. My interest in repair is a lot to do with being interested in damage. I love understanding damage in garment. I like feeling like a detective with used garments – sticking my hands and arms inside the sweater or socks or trousers and feeling for the holes or weakness in the cloth or fabric. Trying to figure out through my fingers and through talking to people about their garments how the holes happened. Main causes of damage are age and time, heavy use (repeated pressure in particular spots), moths, some kind of accident or injury.
So I'm a detective about the damage but I also just love how garments over time take on the shape of their owners, they sort of settle into the body. Sagging at the elbows of knees, getting thin at the heels, wearing out where a belt or bag rubs, getting a moth hole where food has spilt or stained. Like it's a knitted tracing of them.
My interest in darning is also an interest in people and hearing stories about their lives. For instance recently as part of the Woman's Hour Craft Prize I held 4 Mending Days as part of project called Where Holes Happen. I invited members of the public to bring an item of clothing to be repaired. The idea was just to make the offer to them – to let them see what it felt like to have their stuff looked after and also for me to widen my experience garment stories and holes. I find that is often easier to talk though a garment. Someone comes to see me with their hole and I usually make the repair set up like a sort of drs consultation, discussing the problem and how to approach the repair but often quite quickly we are talking about why they love the garment and want it mended. There's a funny intimacy talking about and handling clothes of others. They may love the garment because it belonged to someone they loved who had died, been made by someone they loved, worn and used for favourite activities. My experience has been that I usually get to see and mend favourite items –cosy clothes – stuff that is worn often.
I also happen to love that wear and tear can't be faked. The softens and feel of gradually worn down of cloth can only be achieved with time and use and washing. It's a very particular softness and sometimes thinness.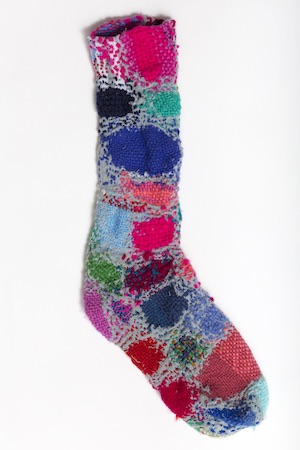 I like to laugh and sometimes the dealing with damage isn't that funny. But I find it easier to talk about something if you make the story/object/work funny. It's an easier way into the work. Colour and humour on first look don't ask too much of you – they want to please the audience. Or they let you be absorbed by them and then on second look your brain can think and make connections.
It's also a bit genetic – I come from a funny family.
celiapym.com
Instagram: celiapym
Slider images
1 Hope's Sweater, 1951
2 Norwegian Sweater
3 Bills close up
4 Blue Scarf
All photographs by Michele Panzeri. All the work (c) Celia Pym including all small images