To feel so much freedom in the presence of art is something only the most extraordinary of talents can put out to the world. A nonconformity, Cy Twombly's came to light as one of the Idiosyncratic talents of the 50s, an artistic era dictated by abstract expressionism. Twombly, was nothing short of a diamond in a sea full of glass. He spoke his mind into existence, breathing life into words and gave value to emotions and thoughts.
At first glance, his style is predominantly clear. The childlike scratches and scribbles, his practice of gestural expressionism, is dissimilar to the prior artists of his time. Twombly responded to his surroundings, the history and literature that littered the scenic streets of Rome, where Twombly settled in for most of his career, after moving from Virginia. A romantic symbolist as such, Twombly was to be pioneer of post war Europe – liberated and full of freedom, desperate to neglect the past and rebuild.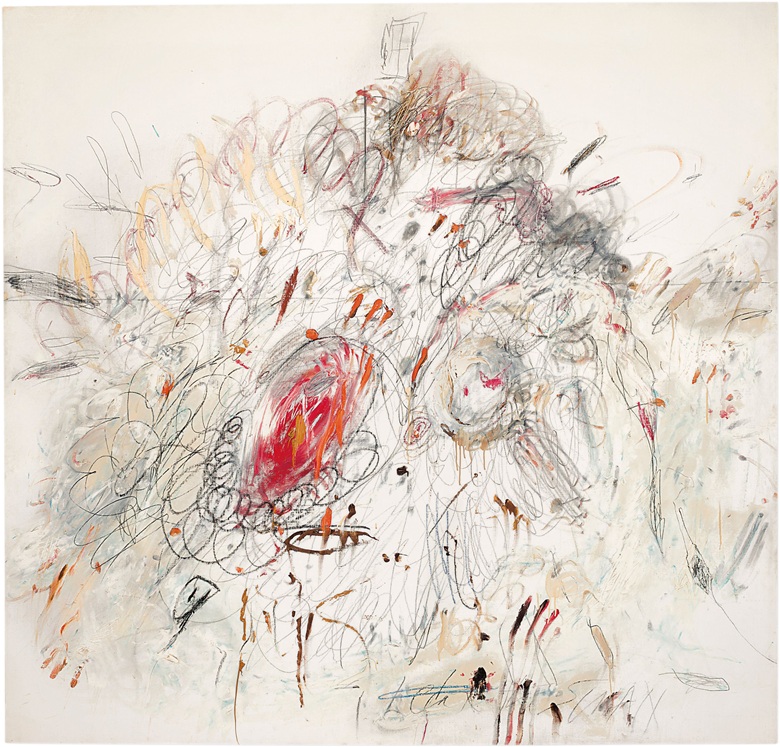 Leda and the Swan, 1962 and Untitled (to Sappho), 1976
© Cy Twombly Foundation
As with our theme for this issue – 'Dark Romance', Twombly was loved by our guest editors, Preen, and the themes of dark romanticism that alluded Twombly's work, deploying mediums of poetry, literature and mythologies to tell a story, his work are something of a paradox – unfinished, as if there is still a story to be told beyond his lines and scribbles. His work was more interested in speaking myths and stories into existence through words – after all myths are stories passed down through word of mouth. Twombly's unconventional depiction of the Greek myth for his most memorable piece Leda and the Swan (1962) rightly exemplifies his magnetism towards mythologies. Bestowed with the beauty of Leda, Zeus conceals his identity as a Swan, he seduces Leda, who later gives birth to Helen of Troy. Using a more forceful approach to illustrate the deceit of Zeus, Twombly uses swirls, scratches and scribbles which implode through the entirety of the canvas of, while the lighter strokes and softer colours intertwined within represents the union of the two. The allure of Twombly's work paints a tale of two stories. Gesturally moving his body, his mind weaving through poetry, history and mythology, flashes of war and death render images that reveal what's masked in his thoughts. Twombly is however, more interested in the wave of energy that scurries through is body when thinking about the story than the actual story itself. He uses his bare hands to create his art, enriching his work with a level of eroticism and spontaneity, that produces a sensuality in the darkest of meanings. He once distinguished that each line he made was in itself "the actual experience… it does not illustrate. It is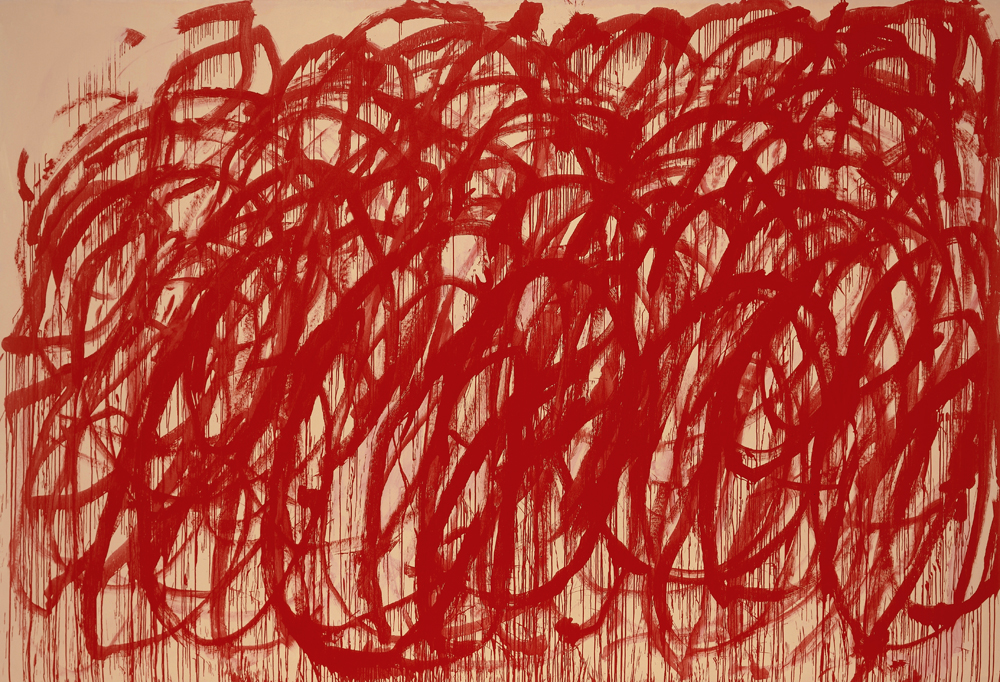 Untitled (to Sappho), 1976 (Fondazione Nicola Del Roscio)
© Cy Twombly Foundation
the sensation of its own realization".
Untitled to Sappho (1976), is a juxtaposition marrying his love for paint and poetry to create an erotic visual that both celebrate the life and death of Hyacinthus -  a youthful Greek hero whose beauty cause tension between the God Apollo and Zephyrus, the west wind, who both admired him. Jealousy that riled up in Zephyrus due to Hyacinth preferring Apollo, led to him killing Hyacinth. Twombly piece was mourns and celebrates the death of Hyacinth and his transformation into a flower – which Apollo made from his spilled blood. The purple stain marries both poetry and art, symbolising consummation and death.
Rarely has an artist been able to place scribbles and words onto a canvas and let it dictate so much meaning.