The body has always been a recurrent theme in visual art. Across the world, the human form has been treated as a means of expression and to enhance the perception of beauty. We are often deluged with perfect bodies from film, TV and now social media feeds. I've always had a strange relationship to my body; I was very overweight as a child, and then had an eating disorder, and now sit somewhere in the middle, though never comfortable with what I have (I think growing into an appreciation of one's own body is a lifelong pursuit). As a gay man too, I think the tyranny around perfect bodies and how the media portrays them isn't at all helpful to the mental well-being of young queer people when they are first coming out. We share here a few artists' work who transcend the modern take of how a body should be represented. AM
Artistic explorations of the human form have changed throughout centuries due to altering ideals, preferences, and desires. Ancient Greek sculptures were typically a mathematical description of beauty which illustrated the perfect balance of weight and rendering of form. Whereas the Renaissance celebrated women with voluptuous bodies such as Botticelli's Venus, whereby he exaggerates the length of her neck and legs in order to bring the viewer's attention to her curvaceous figure. 
During the 19th century, women who were full-figured and voluptuous were considered the most beautiful as it illustrated wealth. In the Victorian era, it was considered attractive to have a thin waist with the aid of a corset. Then with evolving fashion in Western societies the portrayal of ideal beauty went from androgynous boyish figures to celebrating curves and heroin-chic.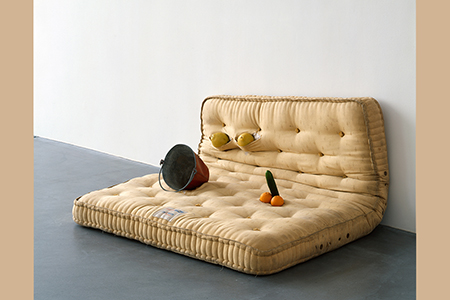 Sarah Lucas, Au Natural, 1994
Mattress, melons, oranges, cucumber, water bucket
84 x 167.8 x 144.8 cm / 33 1/8 66 1/8 57 in
© Sarah Lucas, courtesy Sadie Coles HQ, London
With the rise of Photoshop we hardly see representations of the human form in its reality. Although the notion of the 'ideal  human form' often changes, we are now in an era where art has gone beyond the traditional. We find artists actively working against traditional perceptions of beauty and instead deriving excitement and intrigue from the grotesque, as well  as artists redefining beauty as something beyond aesthetics, which in this day and age starkly goes against the usual Instagram archetype.
Jon Payne, Mu Boyan, and Sarah Lucas are just a small collection of contemporary artists which have used their work to represent the human form in a raw and unapologetic way. Exploring flesh, form, and blemishes in the many ways it appears.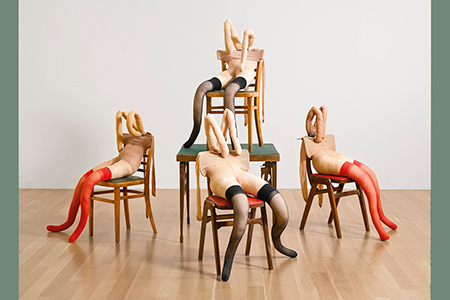 Sarah Lucas, Ace In The Hole, 1998
Tan tights, stockings, four chairs, baize card table
clamps, kapok, Wire Variable dimensions
© Sarah Lucas, courtesy Sadie Coles HQ, London
Employing visual puns and sardonic humour, the sexual body remains a central theme in Sarah Lucas's work. Although her work is not initially intended to provoke, Lucas has stated that the point of her work is "not so much about other people, but about myself and finding some sort of edge."
Believing that art is a way of having an objective look at something and with a wealth of work behind her, Lucas has stated "I can see that they [her work]
.
.
.
.
.
.
.
.
.
.
.
.
.
.
.
.
.
.
inevitably tell a story, in their own way. And of course they are much more personal than I perhaps thought they were at the time of making." Lucas executes a minimal aspect to her representations of the body. Each sculptural work is a reduction of bodies and goes beyond alluding to sexual acts to become sexually stimulating themselves, highlighting what little assistance we need to reveal our psychosexual minds.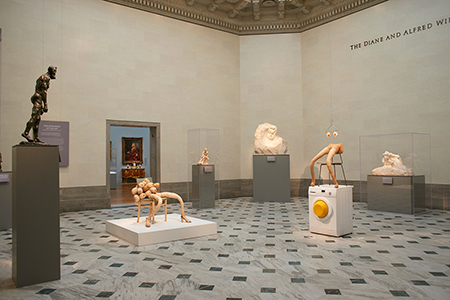 Installation view, Sarah Lucas, Good Muse,
 The Legion of Honor, San Francisco,
15 July – 17 September 2017
© Sarah Lucas, courtesy of the Fine Arts Museums of San Francisco and Sadie Coles HQ, London
Artist and Sculptor, Jon Payne's specialty is depicting human body parts in a grotesque and extreme way, "I believe body-art is always important because we can all connect to it on a very personal level." Payne re-examines the human form by altering the familiar into mutated angles, "we can relate to what these creatures physically feel because we have the same fingers, toes, tongues, eyes etc., we connect to that sensory experience."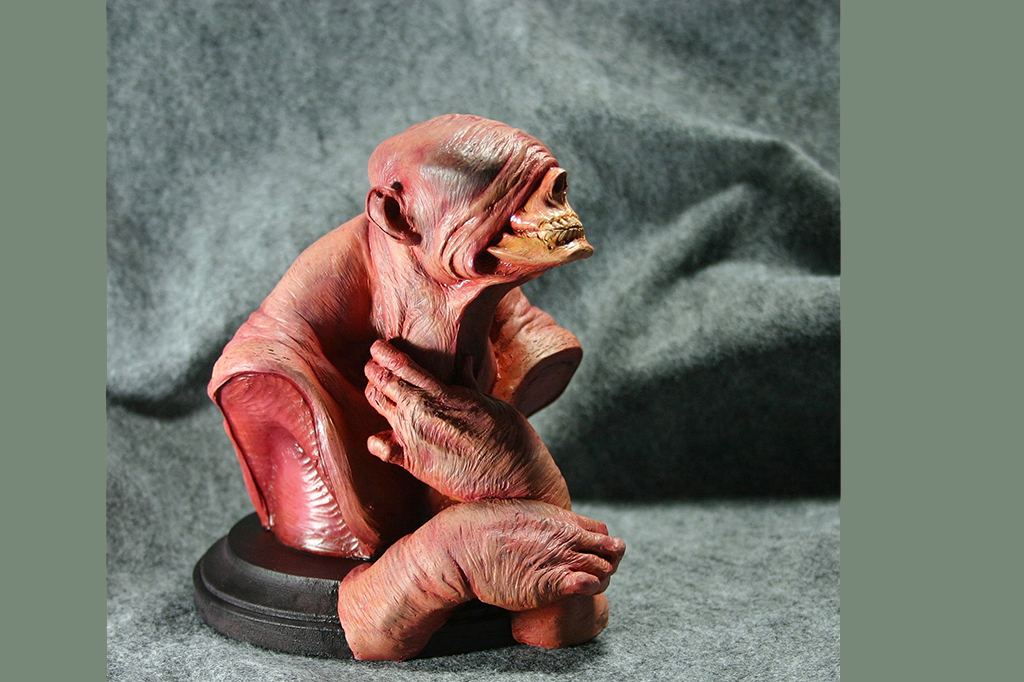 The Painted Casting of Mr. Wrinkles
© John Payne
Although Payne hopes his work will allow us to not take ourselves so seriously, he is primarily concerned with sending us the message of observing, "we have been entrusted with wonderfully bizarre bodies and we need to see them as the machines they are…if I made these same characters to appear as if they were stone they would not be nearly as a sympathetic."
As a huge fan of Ron Mueck's work, Payne finds himself  inspired by Muecks representations of life sized human sculptures "they are so real and alive but still  surreal in their scale." On the other end  of the spectrum Payne  also admires the work of Bart Walter's, "His stylized sculptures of animals make you feel this hyper-real sense of movement and weight, that are (on the outside) very unreal."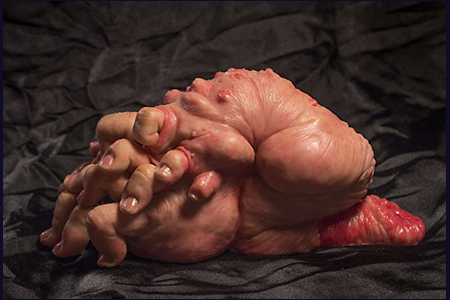 Portia the Fleshlette
© John Payne
.
.
.
.
.
.
.
.
.
.
.
.
.
.
.
.
.
For Payne, visual art is responsible for working on an aesthetic level but must also have a concept, "if a concept is strong enough it can often prop weak or underdeveloped visuals (take Minecraft as an example), ultimately, both aspects are required for a piece of art to be successful – otherwise it is simply a recording with no feeling."
Contemporary Chinese sculptor, Mu Boyan, is known for his exaggerated sculptures of obese men. His pieces are surprising to say the least, and they show a very different view of the human form. Boyan describes the beauty of the human form as "irreplaceable" saying, "such beauty is great."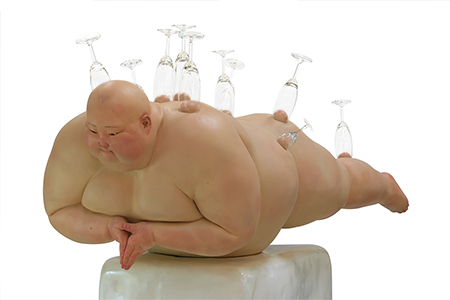 © Mu Boyan, Untitled, 2008
165 x 146 x 66cm
Color on resin+already-made production

Despite their exaggerated surrealism, Boyan's work is observed as being both humorous and satirical "the obese men which I create is not what we usually see in daily life. They are somewhat imaginary, but are derived from what I feel in this world." An underlying focus of Boyan's work is the changing views of weight gain in China, "I make these figures for this world."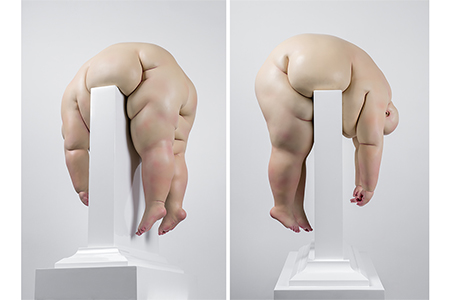 © Mu Boyan, Sunny, 2011
Courtesy of AYE Gallery

After being represented in art for thousands of years, Boyan believes that the human body is its own carrier of art, "Art is increasingly a new language and the human body will also be used in different cultures. The beauty of the human body will be constantly excavated or re-recognized in artist's minds."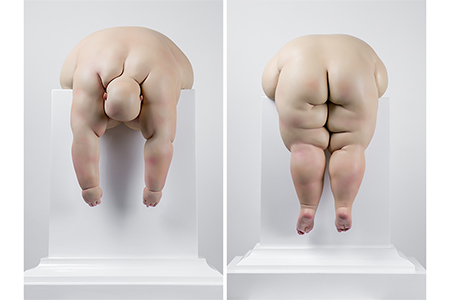 © Mu Boyan, Sunny, 2011
Courtesy of AYE Gallery

Visceral in impact, these deconstructed, overly surreal, and somewhat mutated representations of the human form draw us to question what is normal. You may withdraw in revulsion at some, but to be unimpressed by such exploration of the human anatomy, borders on perversity.

Cover image: The Birth of Venus,
Sandro Botticelli, 1480.
.