In the 1920s Charles-Édouard Jeanneret-Gris developed a working theory on colour, going on to create a "colour keyboard" intended to help users find and match colours for use in interiors. He first sketched the system for colour design in the magazine l'Esprit Nouveau in 1921, which he went on to several times in his career and also committing his thoughts to paper.  All in all, he created 63 original colours which he named the Architectural Polychromy.
Charles-Édouard Jeanneret-Gris is probably better known to most as Le Corbusier, one of the most influential architects of the twentieth century; a pioneer of modernist architecture: a purist of clean shapes and sharp lines. As an architect, he was very much dedicated to providing better living conditions for the residents of crowded cities and contributed specific designs for several buildings across crowded cities in India as well as other countries around the world.
Alongside that, he was a colour magician. His written works manage to establish connections between specific pigments and colours, and their effects on architectural space and its inhabitant. Le Corbusier was one of the first to understand how colour affected places. How specific shades could affect rooms and their inhabitants, creating a welcoming atmosphere and altering their perception of space.
He recognised roles that could be applied to different shades which included the psychological effects, weight, depth, perception and unity.  Then he grouped colours that could be attributed to each of these to initiate atmospheres that would create unity. Certain colours, he concluded, can stimulate whilst deeper shades could enhance or camouflage elements in a room.
But simply paler colours with natural pigments could be used to create warmth and light, whilst deeper shades could enhance or camouflage elements in a room. He believed synthetic pigments had a more invigorating effect and would have a dramatic influence on architecture.  It is important to put his concept into context.  At the time he worked on this theory that the world of design was dominated by black.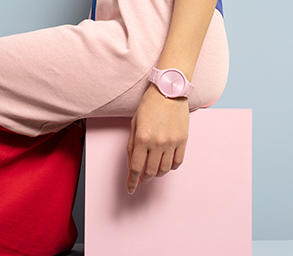 Think about the car manufacturer Henry Ford, he invented the idea of mass production. His comment about buying ford cars was, 'customers could have any colour as long as it was black'.  Black after all dried quicker than other colour so, on his assembly line, speed was everything.
The power of our understanding and emotive connection with colour in design really started with Le Corbusier.  Even though our understanding has grown so much since then, he is still a go-to reference.  But in reality, anyone cannot just tap into his colour palette and reference his name and his theory. However, Rado the Swiss watchmaking brand has managed just such a feet.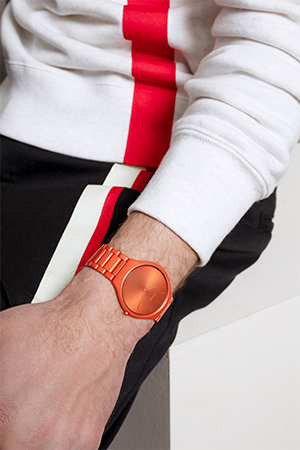 The Foundation Le Corbusier is a private foundation and archive honouring the work of the architect.  Protective of course, of his legacy, in order to protect his 'brand' and assure any collaboration in keeping with his own aesthetic. The Foundation Le Corbusier in Paris entrusted Les Couleurs Suisse AG with the exclusive worldwide licensing rights for the Le Corbusier colours and have built a collaboration with Rado to partner with them on an exclusive palette for nine limited edition watches in full high-tech ceramic. The True Thinline Les Couleurs TM Le Corbusier celebrates the work of this visionary architect in a truly unique watch collection.
Important yet less known, Le Corbusier actually grew up in the Swiss town of which was an important village in the world of watchmaking, French-speaking Neuchâtel canton. The whole industrial town was dedicated to the craft and skill of watch-making and therefore the industry would have been part and parcel of his youth.
Rado as market leaders in materials and technical knowhow, evident by their introduction to the watch marketplace of ultra-light high-tech ceramic, colourful ceramic and Ceramos TM have constantly developed materials in watchmaking.  Materials were also something Le Corbusier championed, so the coming together of these two brands is truly significant.
A limited-edition collection of nine colourways has been created in vibrant, velvety, balanced, bold, powerful tones with 999 pieces per colour. Each has a special case back design which includes all 63 colours. As ever at Rado, each piece is durable, scratch-resistant, light and comfortable to wear thanks to the full high-tech ceramic construction and our pioneering monobloc case construction.
Rado True Thinline Les Couleurs
A movement of quartz, the case is matte high-tech ceramic, a monobloc construction, matte high-tech ceramic crown, curved sapphire crystal water-resistant to 3 bar (30m) titanium case back with special digital print on sapphire crystal: Le Corbusier colour stripes, polychrome architectural limited edition one of 999.
The dial, printed indexes, printed Rado logo with tonal hands, the bracelet 3-row matte high-tech ceramic titanium 3-fold clasp Colours are cream-white 32001, iron-grey 32010, spectacular ultramarine 4320K, luminous pink 4320C, sunshine yellow 4320W, powerful orange 4320S, slightly greyed English green 32041, grey-brown natural umber 32141 and pale sienna 32123.