Alison Cooke works with clay, she literally digs deep into the earth and creates pieces that make us think about the history and physicality of this medium. PE
Alison Cooke's current practice involves obtaining raw clay from construction sites and historical locations turning it into ceramic forms that reference the history of the area in which the clay was excavated or to commemorate an event that took place there. She works with the unpredictability of the raw clay, celebrating firing defects that become part of the work. Her aim is for her work to be exhibited above the site of excavation or in relevant locations.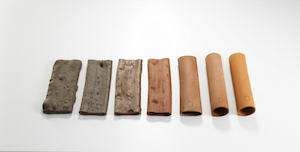 Doulton/Bazalgette Project
Pipeline. 100 x 40 x 12cm. Photo: Michael Harvey 
In July 1212, the Great Fire of Southwark destroyed Southwark Cathedral. Existing records refer to a high death toll on London Bridge because of the catastrophe. Local clay will be used to commemorate a forgotten disaster. Alison Cooke has spoken to us about her intrigue with clay and how her form of art began.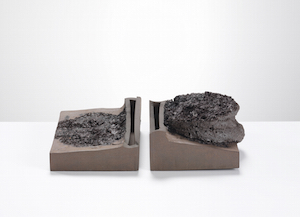 London Bridge Project
Split channel 2016 Terracotta and London Bridge Station Clay – depth 30m.
A few years ago I had been making pieces with commercially bought clay when I saw a giant drill that digs foundations bringing up clay from 30m below the London Bridge Station's redevelopment site. This made me want to try using clay that was directly under my feet. I negotiated with the construction firm to get some the spoil, and found that apart from a few stones, it was pure clay. It is more difficult to work with compared to commercially prepared products. It tends to warp, 
crack and melt, but I encourage the defects so to some extent the earth itself plays a part in the process.  Although the material is clay I have no idea what it will do. I have to soak it and sieve it (very messy and time consuming). Then I test fire it at a range of different temperatures, the resulting colours and textures become the colour chart for the project. I try different techniques like casting, extruding, throwing, coiling to see how the material will hold up, some clays just fall apart. Nothing is added or removed from the clay apart from stones.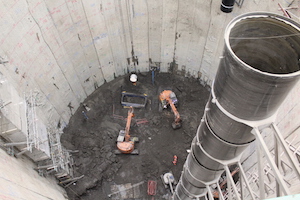 Doulton/Bazalgette Project
Shaft at 42m. ©Alison Cooke
I research initially to clarify what it is that interests me about the history or future of the location, and its likely outcome. Then put together a short proposal. The research continues throughout the project and continues once its finished. I don't think of it as research its automatic.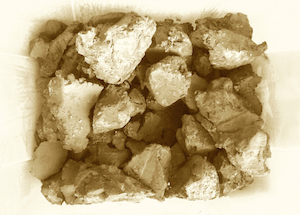 London Bridge Project
54 Million, 2016
Screenprint of raw clay taken on the day it was brought to the surface from 30 metres below London Bridge Station on March 2016.
Printed using 100% London Bridge clay. 
70cm x 50cm
Edition of 30
The work is informed by the different layers of history from the excavation site. For the London Bridge project I looked at past and future structures of railway design along with the changing line of the Thames foreshore and how and when the clay was formed (52-54 million years ago). For a current project on Victorian sewer makers Bazalgette  and 
Doutlon I'm looking at past and current construction methods. I reproduce, chop up and combine these different elements in the clay. Over the course of a year I experiment and produce models, then cherry pick the ones that are successful and pull together a body of finished work for exhibition.I am interested in city infrastructure, extreme feats of engineering, borders, recent history, deep history, land formation, everything!! I'm not academic but certain things resonate. I follow a number of structural engineering and scientific organisations so become aware of where and when the land is likely to be excavated. If the site is really interesting I write a proposal and send endless begging emails until someone responds. The response time varies from a week to a year.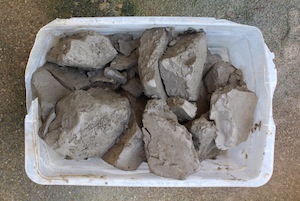 Doulton/Bazalgette Project
Raw clay spoil. ©Alison Cooke
Most recently I approached a team of scientists, working on a project to map Doggerland, the land that once joined the UK to mainland Europe, inhabited by thousands of people, that is now submerged under the North Sea. The "Europe's Lost Frontiers" team have been taking core samples from below the sea bed. Through these cores they hope to unlock the record of climate change, settlement and colonisation over the millennia. It's a fascinating project and particularly poignant at this time. I have a number of projects on the go and jump between them. Sometimes I involve other artists.
alisoncooke.co.uk
alison-cooke.tumblr.com
Instagram: alison.cooke