We have admired Sam Barsky from afar for a long while and Freddie has been a great friend of ours since college days. Both use knitting as an art-form and we can see connections between them but come from very different backgrounds, hear from them both below. PE
Art may well be subjective. Knitting is having a resurgence and is certainly seen as an art form by many whether it be something to wear as a piece or artistic knitted home items like rugs or even knitted maps, people and places.
Whether an art form, a craft or both it has been rediscovered in the past few years by a whole new generation.
With the title of 2017's crafter of the year, Sam Barsky is the premium example of creating your own life path via a passion for knitting which he combines with travelling, to create unforgettable memories and commemorating jumpers.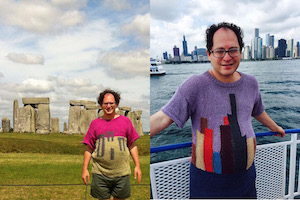 Right, Stonehenge 
Left, New York
In 1999 Barsky, 24 at the time, had to drop out of nursing school due to a neurological disorder and after meandering through vintage stalls, he fell upon a yarn stall which inspired him to buy a ball. Taught how to knit basic items by the ladies at the stall, he made a jumper from a Vogue pattern. Although the pattern was a complex pattern of the world map, it didn't fulfil him enough. Barsky then decided that he needed to knit without a pattern, from memory, practice and initiative.  He then began to knit nature and landmarks, eventually visiting the places that he knitted.
With more than 108 sweaters under his belt, Barsky now intends on visiting these places wearing his sweaters, if he hasn't done so already. He's made a variety of sweaters, frequenting landscapes and landmarks, for example waterfalls, The Golden Gate Bridge, Stonehenge and more. Being raised in the Orthodox Jewish Faith, the holidays for him are very important. He creates jumpers for the Jewish Holidays, although he had one for each holiday he's made more depending on the length of the holiday, his Seder plate (a special plate containing symbolic foods eaten or displayed at the Passover Seder) is notorious. One of his most fascinating jumpers is his 100th jumper which is an ensemble piece made up of knitted pictures of 37 of his favourite jumpers that he had made so far.
Barsky a knitter who has made his life work about sharing his joy of travel and knitwear and with a 
Freddie Robins, based in Essex and London,  is a knitting artist who combines fine art, design and craft to cross boundaries that explore contemporary issues of domestic, gender, human condition and cultural preconceptions that is assumed of her craft. By creating subversive knitting that is surrounded by dark themes and dark humour she brings intelligence, contemporary worldly issues and knitting together. The pieces she creates evolve from the process instead of being designed and made with the titles of her work implicating the meaning of the work. When introduced to Robins' work in person, it tends to be less confronting and moves into subversion through the exhibition so that it doesn't shock or put people off at first glance, but gradually evolves into sharp, striking statements. Robins anticipates the experience she gives the spectator through each piece of knitted artwork when she makes it, evoking emotion, passion and reflection from whomever sees it. Freddie discusses her art and creative journey with us.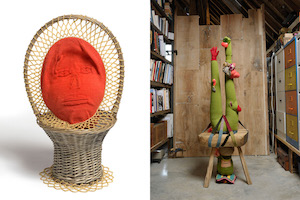 Left Basketcase, 2015 machine knitted wool, crocheted lurex, reclaimed wicker basket, 260x520x260mm. Right, One Letter Apart, 2013 machine and hand knitted wool, hand crocheted wool, expanding foam, ball of sisal, second-hand hand knitted wool glove, antique glass bead necklace, flints, sequins, glitter, mohair yarn, dress pins on oak base, approx 1700 × 550 × 430 mm
The story of how I started to work with knit and thread started with my godmother, Pamela Darking, who I was very close to, she was a skilled and creative needle woman. She learnt her skill from her father who was a tailor. She made me toys and clothes throughout my childhood. When I was a teenager she would copy clothes that I could not afford to buy. I saw how much joy and satisfaction she got from her creative skills and wanted this for myself. She was also a single woman, lived in her own 'pad' and appeared so free. I wanted to emulate her spirit. Of course I was only seeing what she allowed me to see but it is totally down to her love of making that set me off on my creative path. Pam died shortly after I completed my MA in Textiles at the Royal College of Art. I think of her often and hope that she would enjoy my work. machine knitted wool, hand crocheted wool, nails, beads, antique glass jewellery, polished agate on maple wood plaque, 180 × 200 × 50 mm. In Private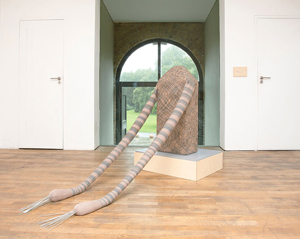 Im so bloody sad 2015 machine knitted wool, foam, sand, knitting needles, 980 × 400 × 2100 mm


large instagram following he sure is a crowd pleaser, blurring the lines between real life and role play with his innovative knitwear and idea to inspire images that are playful and exciting as well as skilful. So what happens when art and knitting combine to create a goal filled experience? Sam Barsky tells us all about his experiences in creating these experiences.
I started knitting locations by originally knitting nature scenes, then realising that I could knit anything. After seeing a picture of Tower Bridge (London) whilst knitting a nature scene, I thought it would be interesting to knit a picture of that on the next jumper, beginning my journey of knitting locations.
When it comes to choosing seasonal yarns, I use wool and other animal fibres in winter and in summer I use cotton. I use yarns that resemble things in the real world, variegated blue yarn can resemble water and green with mixed colours can look like vegetation.
Deciding on a location is based on where I am planning to travel or what event I will be attending in the near future. If there aren't any then I may choose something local or a wish list location.
Photographing myself in the locations with my jumpers began as a coincidence, when my wife and I were travelling, it was natural to wear the jumper of that place whilst I was there and I realised that I had a collection of about 10-15 photographs of myself wearing the jumper in these locations. I realised that this was another form of art and deliberated whether I should obtain photographs wearing my sweaters at these locations and to knit places of where I had plans to travel.
The relevance of the art of hand-knitting has and will always be important, I feel it is my duty to advance it to be normal and am trying to instil confidence in others that they can do it too.
Knitting and surrounding activities have become my career, one that is growing. In addition to knitting I teach and give lecture on what I do, with future plans to have my jumpers mass produced, do more exhibitions and write books on the topic, at the moment I am lining up the right people to go on this journey with me.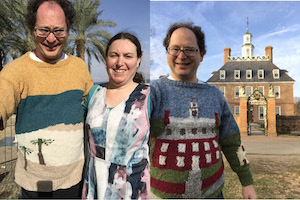 Right, Sam and his wife
Left, Sam at Stately Home
I choose to knit sweaters as I like to be able to create something I can wear and tell people about. Even before taking pictures I liked sweaters as they're practical garments that get noticed the most as a
---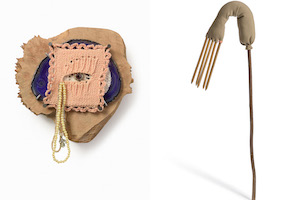 Left machine knitted wool, hand crocheted wool, nails, beads, antique glass jewellery, polished agate on maple wood plaque, 180 × 200 × 50 mm 2013 . In Private Collection Right Knitted Folk Objects – Cecil, 2014 machine knitted wool, reclaimed knitting needles, wood, 240 × 100 × 1220 mm
Collection I started knitting as a teenager. Knitting was popular, and fashionable, in the 1980's when I was growing up. I was inspired to start knitting after seeing the pattern books of Patricia Roberts. Her patterns were for colourful, graphic knitted jumpers. Her styling was contemporary. I knitted a couple of her pieces before moving on to design my own knitted garment in response to a national hand knitting design competition. I won. I was good at it. It requires manual dexterity, creativity but also a methodical, mathematical brain. I have all these assets. Knitting is a language that I have become very fluent in. I can express myself well through it. Knitting is also loaded with cultural and creative expectations. It is ripe for subversion and there is little that I enjoy more than subverting expectations.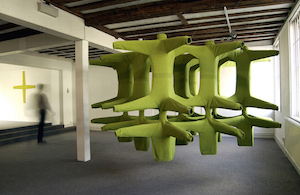 Anyway, 2002 machine knitted shetland wool , 1650 × 3000 × 3000 mm. Suspended knitted sculpture installed at firstsite at the Minories Art Gallery. In the collection of the Castle Museum, Nottingham.  Anyway is a combination of digital and analogue production, constructed from automated knitted components joined together by hand.
When deciding on a topic, my work is usually made as a way to explore an issue that irritates or upsets me. My work is a way of having a voice. I have always been concerned with the feminist agenda and gender inequality. I have an ongoing problem with notions of normality, convention and all forms of hierarchy. I believe strongly in the individual, and championing the underdog. I find myself fully immersed in things which many people under value,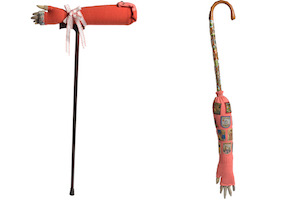 Left Knitted Folk Objects – Old Nanny Witch, 2014 machine knitted wool, reclaimed wooden walking stick, stones, ribbon, kilt pin, 500 × 100 × 980 mm. In Private Collection. Right Knitted Folk Objects – Mither, 2014 machine knitted wool, reclaimed wooden walking stick with metal badges, stones, 1050 × 160 × 100 mm. In Private Collection
knitted Garment, blurring the lines between real life and role play with his innovative knitwear and idea to inspire images that are playful and exciting as well as skilful. Being an extrovert I have enjoyed being popularly received and I feel that it's the best possible avenue to success. I also want to use my popularity to positively influence society and make changes for the better. Personally, I don't have a favourite jumper but I love that virtually every jumper I have made is someone else's favourite.
The experiences I've had from meeting people due to my craft have been mostly positive, as I've had the opportunity to meet really talented artists who should be famous.
The awards I've won are little bonuses to me, the most rewarding part of doing what I do comes from the opportunities I get that come along with the craft.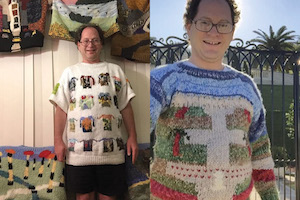 Right, Sam wears his jumper of all his jumpers
Left, Sam wears  a tropical jumper
My list of goal locations is so long, I cannot realistically accomplish it in my lifetime, but I'm trying to go to as many as I can! I'd like to feature landmarks from every continent someday. Recently, where I've  travelled to have been sponsored so my travel expenses are covered.

I get the sense that a lot of men do knit but are uncomfortable letting others know or doing so in public, I am hoping to change that. However I feel like there's a lot of media exposure about men who knit, which is great, but is also unfair to the many equally talented female knitters out there, which I've discussed with many people.
I want to send a message of love, peace and tolerance of all people, regardless of any differences.  That's the obvious. I also want to spread awareness of the importance of recognising art and creativity in this world. It is my belief that there should be avenues to success for all creative people without having to also be their own marketers with comparable levels of ease to all other fields. And society should work hard to recognise and respect and not put down creative people.
sambarsky.com
Instagram: sambarskyknitter

---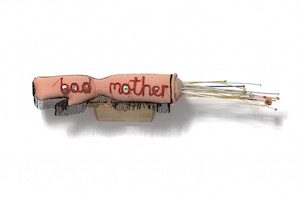 Bad Mother, 2015 machine knitted wool, machine knitted lurex, expanding foam, knitting needles, glass beads, sequins, dress pins, crystal beads on maple wood shelf, 780 × 160 × 160 mm. In Private Collection
or do not value at all – textiles, craft, wool and knitting. I live in Essex and love white shoes. I do have to control how my work is shown and seen. It can easily be mistaken as designed objects or fashion. I steer clear of invitations to exhibit, which do not represent the way that I want my work to be seen, exhibitions that are looking for the friendly and cosy face of knitting. I am not so concerned about it being over sensationalised however I did turn an invitation to be interviewed on Kerrang! Radio. They wanted to discuss my series Knitted Homes of Crime.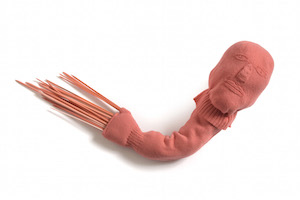 Knitted Folk Objects – Pocky, 2014 machine knitted wool, reclaimed knitting needles, 700 × 400 × 120 mm
I could tell from the email request that I was going to be the butt of many jokes. One of the things I am interested in pushing my work beyond the expected scale of the human body but I need an opportunity to exhibit or a site-specific commission to respond to. The making of large works is not financially viable without funding or the appropriate site to show it in. I made a large-scale work, Anyway, under these conditions (3 metres x 3 metres x 11/2 metres). It was a challenge but rewarding, especially as it sold into a Public Collection at Nottingham Castle Museum. Given the right circumstances I would like to go beyond this scale. However I do really enjoy making smaller works in my studio. There is so much emphasis on the production of large-scale works. They are somehow seen as more culturally and creatively important. I couldn't agree less.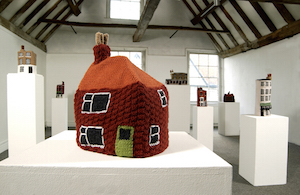 Knitted Homes of Crime, 2002 Hand knitted wool, quilted lining fabricKnitted by Jean Arkell. Commissioned by firstsite. Installed at firstsite at the Minories Art Gallery, Colchester. These are the homes of female killers, or the houses where they committed their crimes.
freddierobins.com Instagram: iamfreddierobins All Photographs Douglas Atfield