It's a cliche perhaps, but I love things that aren't conventionally beautiful; buildings in decay speak about decline, about post-industrial spaces, and oftentimes when plants or trees start growing through them, when nature returns, they speak to the fragility of our urban spaces as well. Buildings need to be nurtured just as much as humans do. Part of a building's lifecycle is the way in which they are constantly being repaired, renovated, and refurbished, rendering the human touch a fundamental component. But what happens when such a component disappears? Buildings end up falling into disrepair and then completely abandoned. Here we see images and hear from two contemporary photographers Paul Talling and Romain Veillon on their understanding of the beauty in decay. AM
Derelict London is Paul Talling's testament of how London's buildings are prey to neglect, vandalism and the developers' demolition crew. Talling explains how he came to photograph London's abandoned and crumbling buildings: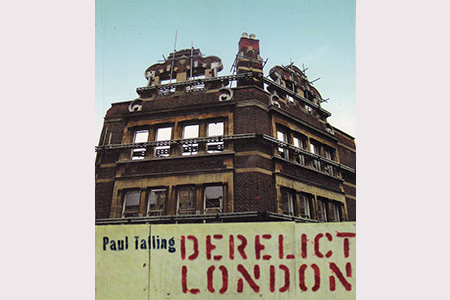 Derelict London, Paul Talling
Random House Publishers
My photography involvement began purely as a labour of love taking snaps of places before they became regenerated. This goes back to an early Spring morning in 2003 walking home from a club when I noticed that an abandoned candle factory in Wandsworth was finally succumbing to the wrecker's ball. There was something rather poignant about seeing this once vibrant building finally biting the dust which prompted me to keep a casual eye out for other buildings tottering on the edge of extinction.
All these buildings are reminders of London's bygone days. Each one is full of social history that shed old, forgotten light on the city. Soon I became obsessed and took to randomly wandering the streets at weekends, camera in hand, and eventually setting up my website. I do occasionally get recommendations, but the majority of my photographs are locations I discovered and stumbled upon in walks where I purposely get lost, which is far more satisfying to photograph.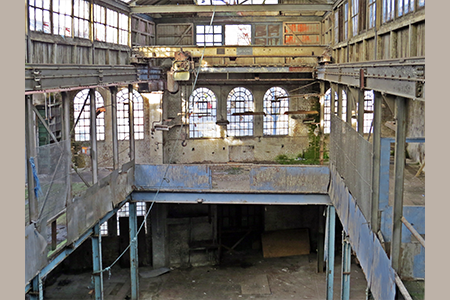 Derelict London, Paul Talling
Random House Publishers

Since I set up my site 14 years ago, I've received a huge amount of emails from followers who have either lived, worked or visited these places in the past. There are so many nostalgic tales and memories from people who used to drink in the pubs, or from readers who say their parents met in the pubs. I once received an email from someone who saw my photograph of the decaying Mersey Ferry, the Royal Iris, which is currently moored by the Thames Barrier who saw the Beatles play a gig on it in its heyday. One reader even claimed that his uncle stabbed someone in an East End pub featured in my book Derelict London.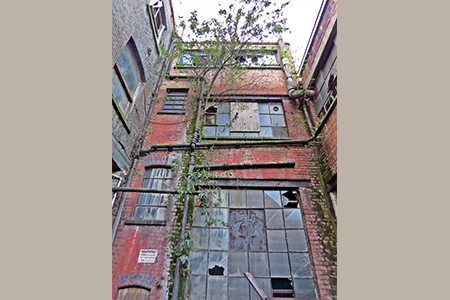 Derelict London, Paul Talling
Random House Publishers
Since I started the website many of the locations I photographed have been demolished whilst others were converted to serve new uses. The aim of Derelict London and my website is to demonstrate that London's derelict buildings deserve to be celebrated just as much as the new and maintained developments in the city.
.
.
.
.
.
.
.
.
.
.
.
.
.
.
.
.
.
.
After the success of both my website and book, I now give guided walking tours around London every weekend. These have proved very popular and sell out months in advance.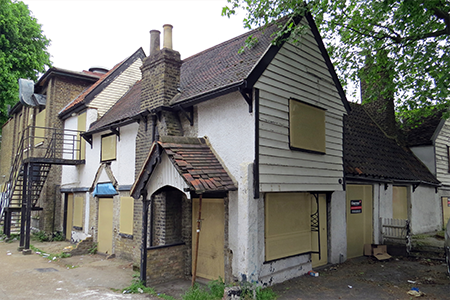 Derelict London, Paul Talling
Random House Publishers

Ask The Dust is French Photographer Romain Veillon's collection of hauntingly beautiful images of locations which have been abandoned and left to fall into decay. Here Veillon tells us the process of his photography and his desire of what he wants his audience to feel:
Abandoned places have fascinated me since childhood. I would imagine that many people around the world have memories of discovering decaying and abandoned houses in their local neighbourhoods.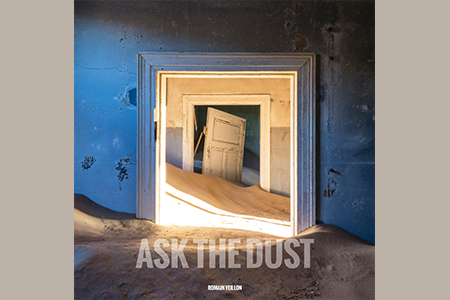 Ask The Dust, Romain Veillon
Published by Carpet Bombing Culture
When I encounter such places, my goal is for my audience to observe and travel to the past. These photographs make the audience explore their imaginations where they actively become the detective. I want them to ask themselves; why was this place abandoned? what happened to the former owners? what used to happen in this room? Each of their stories will be different from one another, and that is what I love. For me, my photographs act as a new kind of "Memento Mori"; they are here to remind us that everything has an end, and that we should enjoy it while it lasts.
Most of the work for my photographs is done long before I get to take them as I need to find the locations, which means a lot of my time is spent researching. The internet is of course a great source of information as well as people around you or other photographers. But occasionally, I stumble upon theses locations whilst on vacation or running in the countryside. When you start looking for them, you realize that these places exist everywhere. You learn to always keep an eye open!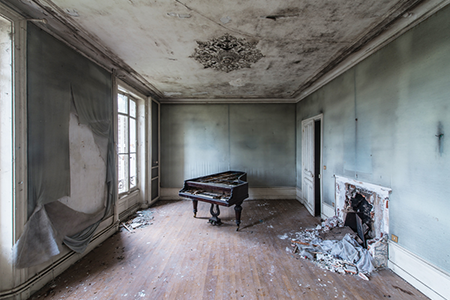 Ask The Dust, Romain Veillon
Published by Carpet Bombing Culture

The main issue with access to many of these locations is the distance needed to travel. These buildings tend to be in an advanced state of decay so I often finding myself walking on rotten floors which is not reassuring as I am always worried that I will fall through the floor. I tend to be very careful when I explore these locations, and make sure I am never alone.
.
.
.
.
.
.
.
.
.
.
.
.
.
.
.
.
.
.
Although I do not condone infiltration, some of the locations I visit are guarded and I have learnt to be very discrete with my work, but I do prefer when I can take my time to really enjoy the discovery and the exploration of a new place.
There are different kind of beauties in this world and some will always perceive my photographs as unpleasant because they will focus on the ruined aspect or the sad story it tells. It is a personal choice that sometimes can relate on a memory people have. Personally, I decide to see beauty in this decay. I want to remember these locations both as they are and as they used to be. Which is why I often use strong lighting: to bring these places back to life during a brief moment.
I never stage the locations I am going to shoot and always prefer to leave them the way they are. I only remove trash cans or papers sometimes. I want my audience to see these rooms as I see them with my own eyes. I think it's really important to represent the true authenticity of these places as much as possible. I explore the buildings in their entirety and search what would be the best location to describe the atmosphere of what I am feeling there. It can often be a game of light, the furniture which was being left to rot or the architecture/paintings decorating some rooms.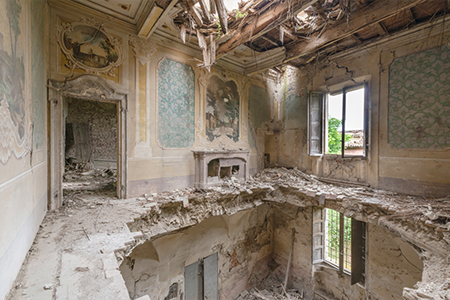 Ask The Dust, Romain Veillon
Published by Carpet Bombing Culture

My intention is not to shock my audience with these photographs, quite the opposite in fact. I do try to avoid gloomy or scary locations, as going through the memories of someone who died or disappeared a long time ago can be a little bit disturbing. Although I personally don't ever recall feeling uncomfortable or disturbed in old and decaying buildings. When you enter someone's intimate space and search through their letters or personal belongings it can reveal too much. But for me, the most disturbing aspect of these photographs and experiences is the current state these locations are in. When architectural wonders suffer the barbarities of time, you can't help but feel somewhat remorseful and wonder what happened for people to have disappeared that rapidly.
There are so many places all around the world I would like to photograph in the future. I will keep them secret for now but I hope I will be able to explore and shoot them soon. But there is one famous place I dream about: Hashima island commonly called Gunkajima which was a bustling coal mining facility that housed thousands of workers. Mitsubishi bought it in 1890 and built Japan's first large concrete building, at nine stories high. The warship appearance, the unique history and the incredible architecture of the buildings make it one of the most interesting experiences I would like to have.
In all my photographs, the audience observes what the world could look like if humans suddenly disappeared. We are all somewhat fascinated by this post-apocalyptic vision. Perhaps we need to witness this to then fully enjoy what we have and the time in front of us. Some photographs have a clear environmental message, when you see how humans created a giant garbage in an underground cavern or how nature can be strong and beautiful when Man is not around. These photographs are a way of reminding us what can happen.
Words by Romain Veillon
Facebook Twitter Instagram