The beauty of all great make-up is a healthy, 'best as can be' glowing skin, and that's exactly what was on display at London Fashion Week's A/W 18/19 season at David Koma and Emilio De La Morena under the direction of Make-up Artists Naoko Scintu and Gemma Smith-Edhouse respectively.  Back stage can feel like one big rush or to be more accurate, manic!  Gone are the days when skin-care came in a poor second to the make-up.  Unlike the days when it was all about statement make-up, skincare is now no longer an afterthought.  
Suqqu was the skin-care and make-up of choice for Naoko and if anyone knows anything  about
Image 1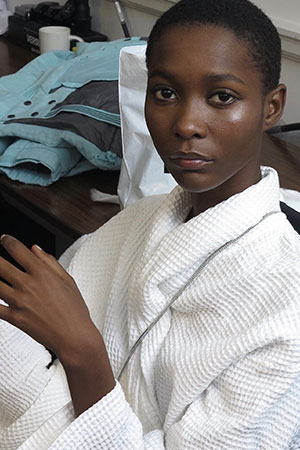 prepping the skin, it's the brand Suqqu. What a difference their Gankin massage makes; it revives and awakens the complexion (handy for early morning call times).  Radiant skin needs little coverage so Blooming Glow Primer and Nude Wear Liquid Foundation were literally all that was necessary.  A graphic ridged broken flick eyeliner and groomed filled in brows completed a modern nod to the 60′s.  
Gemma continued the theme of a flawless base but this time with multiple creative eye make-up designs.  Gemma's chosen skin-care was Evolve Organic Beauty, an artisan British company  
Image 2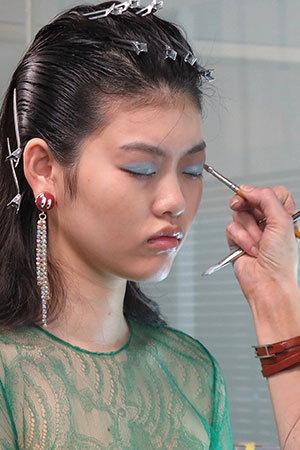 that make small batches by hand so it's fresher when opened. They tick all the right boxes for the conscientious consumer, make-up artist and model alike: recyclable glass and card, PET bottles made of 75% recycled plastic, 100% vegan, 100% cruelty-free and organic ingredients from fair-trade and sustainable sources as close to home as possible. With skin so glowingly clear, all of Gemma's eye designs popped using Eyeko essentials. All in their own way might have been inspired by the 60′s too, from a flat matte or shiny grey to an overly exaggerated and extended matte black shadow, all accompanied by a meticulously combed brow using Eyeko's Brow Game Strong … these brows didn't move and survived multiple outfit changes.
Beauty Editor Julie Jacobs
Images
1, David Koma
2 & 3 Emilio de la Morena

Slider images
1, 2, 3 David Koma
4, 5, Emilio de la Morena
Image 3