We discovered AJ's work on Instagram, when he was displaying work at an art fair in LA last year. He was already aware of who we were and very complimentary about how he believed we represented the "future of the art world". We are both incredibly like-minded people, and he is just a great guy to be around. We met for the first time in LA earlier this year when we were doing a pop-up show with Philip Colbert. He picked us up a blacked out, vintage Bentley and we sat for about 2 hours in LA traffic on the way to his studio, which was such an incredible experience. His infinity artworks are incredible – many artists are trying to replicate this format now, but very few match the quality of AJ's pieces. 'Unit Gallery'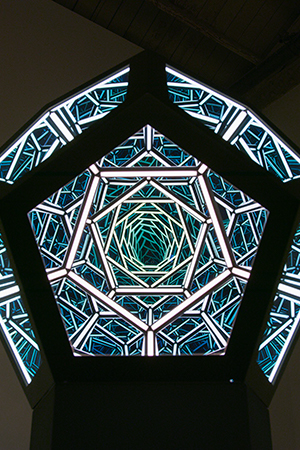 Anthony James, a Central Saint Martins Graduate, is an artist whose work has been compared to the likes of Damien Hirst and Jeff Koons and is well known for his monumental performative sculptures and instillations. One of his most memorable pieces was when he set fire to a Ferrari in a birch forest and buried the car and trees in an instillation. His practice mostly incorporates a variety of unusual industrial objects: steel vitrines, aluminium sculptures, detritus and wall mounted installations. He is an artist who is always searching for new practices to reflect the themes of death, destruction and rebirth. He is also a co-founder of There-there gallery with Lauri Firstenberg which opened in Hollywood in 2017, a gallery that produces 'exhibitions, films and editions in order to promote ongoing collaborations with local and international artists.'
Anthony gave us an insight into his working practice and how he develops his ideas:
'When I have an idea for an artwork I allow myself to be repetitive in order to find the essence of the concept. My work gestures towards minimalism, materiality, process, alchemy, language, mechanisation, and experimentation with light and space.
A lot of the art is in the correction of a mistake or maybe it is the mistake. I'm very open to what comes to me. I feel certain things are serendipitous.'
He commented on how he works around where art meets philosophy:
'My artworks are multi-layered in their philosophy, I have a pluralistic approach to my practice.
My work takes up the concepts of the universal and transcendental.  The historical cosmology of Plato is a primary inspiration for the portal sculpture'
We asked whether he would consider his work within the realms of shamanism:
'I work in an aesthetic and metaphysical sense. Instinctual and improvised. Looking for that secular magic; the conversion from the metaphysical and emotional methodism to metaphysical and emotional paganism.'
Anthony concluded on the materials he uses:
'I often use what's around me.  I have sacrificed a car. I collect Birch trees from nearby forests and  Cardboard boxes from Munich streets and dumpsters.
I make formalist and minimalist sculptures using high technology. The materials used, whether stainless steel, glass, bronze or gold are specific and essential to the success of the sculpture.'