The brand PHVLO (flow) refer to themselves as a 25-hour day lifestyle performance brand created by designer Johanna Ho, who formerly showcased at London Fashion Week and had a very successful namesake lineup. It's a clothing brand about versatility, performance and having a wardrobe that truly works for today, not something set in the past history of seasonally displayed collections. These are pieces that can transform from day to night and which they refer to at the company as 'boundary-free'. The collection contains sports/active wear and outerwear as well as collaborations with both Lane Crawford and St Martins college.  Here Johanna tells us about her aspirations for moving fashion into a new world…
Tell us a little of your history: what brought you to the point you are at now?
I used to have my own label many years ago… the industry has changed so much that it's gone way too fast to a point that I just don't want to chase 'the system' any more. One just becomes a robot, and I simply wanted to get 'out' before I got burnt out or lost the passion… So I started looking into what makes me happy… what I truly love… and what this world today has become… and how I wanted to apply my years of experience from starting my own brand to working in both the West and Asian markets… and how to give back to our communities and our next generations… and my quest to all the above resulted in how PHVLO came about…
You have torn up the fashion rule book… why?
I just wanted to do something that was out of the box, to challenge the 'norm'… as the world of fashion to me has become almost like a big giant photocopier, nothing is quite about originality anymore,  it's all about the chase, how to get there the fastest, be the 'coolest', most 'on trend', how to make more money… surely, life is much more than that?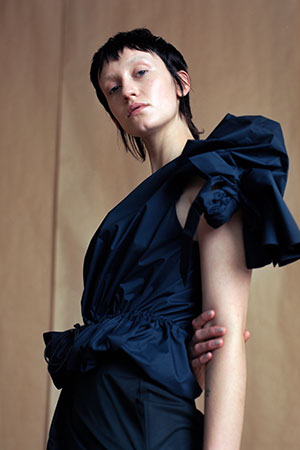 And what do you mean when you talk of 'boundary-free' on your website?
Boundary-free to me means there should be no lines or borders that block one off from being creative. Creativity is race-free, gender-free, seasons-free, simply no limits;

everyone should be free to create whatever flows from the heart, and not from the mind.
How did you do this: i.e. how have your structured your business going forward?  And what made you want to structure it this way? i.e non seasonal etc?
PHLVO is not about a singular brand. It is all about building a community, bringing creatives and passionate people together with the same like-mindedness. I wanted to create a platform on which people feel secure, without the need to sacrifice their souls… it is all about creating balance. Of course, money is important, but, to me, that should go along with mutual respect, understanding and integrity.
Do you feel the fashion business is stuck in a out-of-date business model?  If so, how and why are you doing things differently? What are you doing differently?
Like my previous answer, I think fashion has kind of stopped moving forward… I think spending astronomic amounts on fashion shows is really out-of-date… to me the future is about being free, and fashion is not just about fashion and looking good, but its more and more about a lifestyle, and a responsible, healthy and balanced one…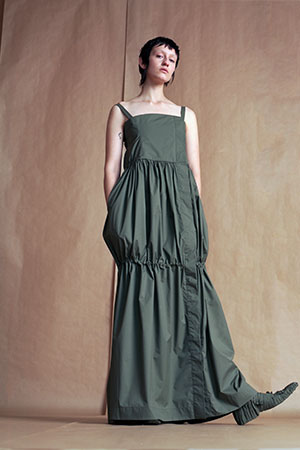 How much does the environmental factor play a part in your collections?
One key part of the PHVLO  DNA is about sustainability. The world we live in nowadays is a mess. It is full of toxins, not just in the air, but among human beings. People abuse the environment we live in and people also abuse other people for purely selfish reasons. The brand strives to create clean products, from the concepts of research (e.g. the use of Eco/ sustainable fabrics) to the marketing of the final designs and products, and we emphasise the importance of education and being constantly aware of how each and every step we choose to take can either contribute to or destroy our planet.
How is your brand relevant to this 25-hour lifestyle you talk of; what are you doing that others are not?
25-hour is about creating products that can be worn everywhere, at all parts of the day, from day to
evening… wherever your lifestyle leads you. PHVLO  is about creating functional clothing and products that are also beautiful, with attention to detail… functional couture if you like.
We notice that you collaborate a lot; why and how do you choose who you collaborate with? 
It is about building a community with like-minded people. I believe one can never work or create alone. Collaborations not only bring people together, and not just creatively, but attain a freshness by connecting different people together across all walks of life. Therefore, PHVLO is never about just one singular entity, but about happy and passionate teamwork.
Does gender-neutrality come into your world of design?
Yes. More so than ever. This is also what we mean by boundary-free.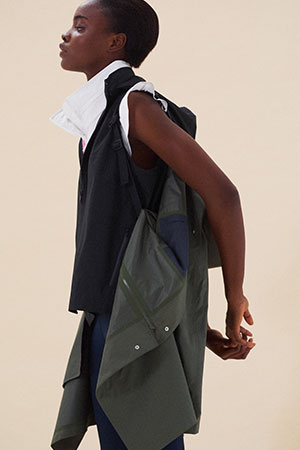 You talk of clothing being wearable from the gym to the night out; is this the future? How do you see versatility in clothing really working?
PHVLO products are meant for 'PHVLOERS'… which means the people who wear PHVLO flow in and out of different roles in life. Therefore a PHVLO garment or product is all about that; we believe that the future is more about how clothing/ designs fit into multi-functional and diverse lifestyles. It is never about sacrifice; it is more about enhancement, with life-enhancing designs.
To what extent do you see yourself as a fashion designer, as there are elements of product design in what you do?
PHVLO is never about fashion, but designs and products that are all about beautiful functionality, stress and abuse free, helping the end user as well as those who designed and made the products. It's about a sense of belonging, full of love and respect, and ultimately giving a smile and healthy outlook to all who wear and work with PHVLO.